To edit settings for your store and checkout:
Enable Edit Mode
Click the edit button circle that appears in the bottom left corner of your browser screen when you are logged in and viewing your portfolio.

Click 'Settings' in the left sidebar then click on the 'Store' tab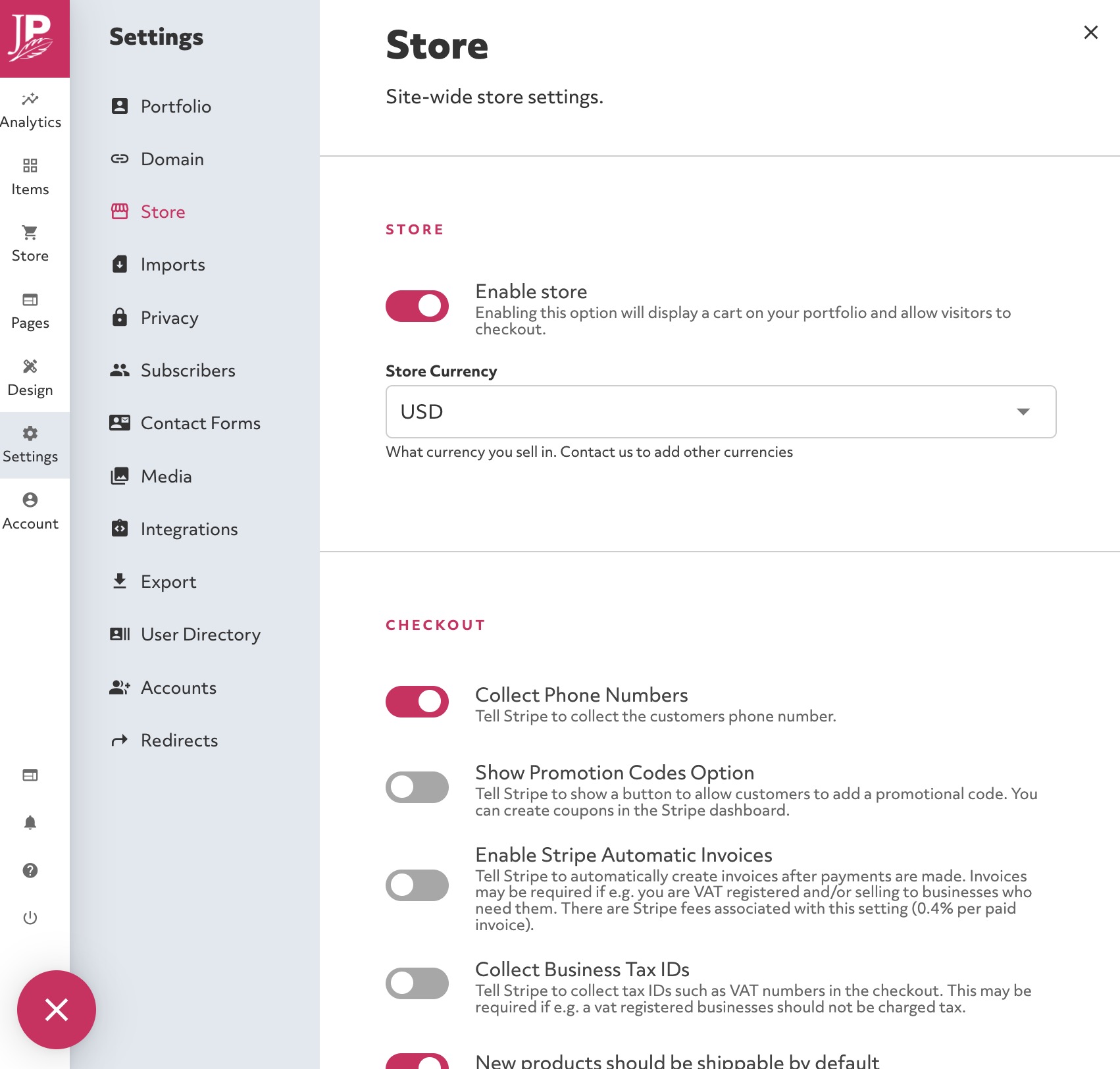 The settings on the checkout page are as follows:
Enable store: This turns on or off cart and checkout from your site. If this setting is off visitors to your site won't be able to add things to their cart or checkout.
Store Currency: The currency for all of your store prices.
Collect Phone Numbers: This setting requires customers to provide their phone number during checkout. This is useful to help verify customers, contact them if any issues, provide them with shipping details or to provide to the shipping courier.
Show Promotion Codes Option: This setting shows the option to add a promotional coupon code in your checkout. If you have not created and don't want touse coupon codes you should leave this setting disabled.
Enable Stripe Automatic Invoices: If you want Stripe to automatically create an invoice for any payments you recieve you can enable this option. Invoices may be legally required if you are, for example, a VAT registered business. Please note that Stripe will charge a fee for using this option.
Collect Business Tax IDs: If you need to collect e.g. VAT numbers for companies you should turn this setting on. For some transactions providing a Tax ID will mean the customer is not charged taxes. If you are only selling to consumers you may not need this option.
New products should be shippable by default: This setting will be automatically set on new products as you add them. If all of your products are shippable you should turn this on, otherwise leave it off.
Use Stripe to calculate taxes on orders: If you need to collect sales tax, VAT or GST on your store sales you can enable this option. Please see our detailed article:
Default Product Tax Code:: This is the Stripe tax code to apply to new products by default. This means you won't need to set it every time you add a product. Stripe uses these tax codes to calculate the correct taxes to charge.
Shipping : For settnig up your shipping please see this article:
Still need help?